A close-knit community located halfway between Charlotte and Atlanta, Greenville is an affordable place to live with distinct seasons yet pleasant enough weather year-round for those who enjoy being outdoors. Looking for things to do in Greenville, SC? Along with its fantastic restaurants, buzzing art scene, and welcoming downtown area, Greenville is also popular with visitors and residents alike for its myriad breweries. With 20 breweries in the county and ten in Greenville itself, you'll never be far from a great beer. Here are some of the best to put on your list.
1. Birds Fly South Ale Project

1320 Hampton Ave, Greenville, SC 29601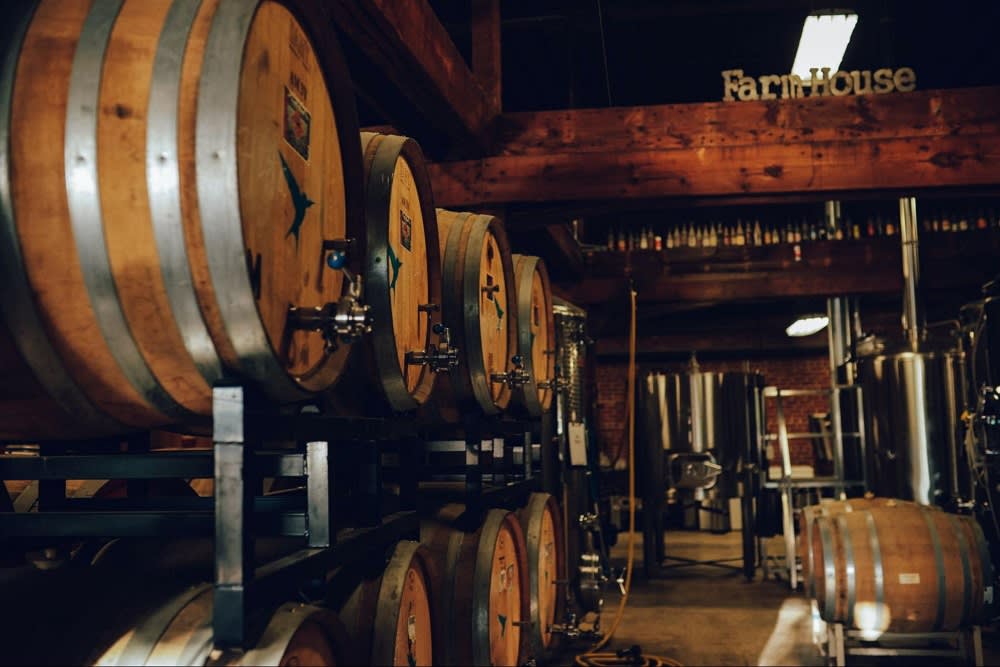 Photo courtesy of Birds Fly South

A "progressively old school urban farmhouse brewing" company, Birds Fly South is a favorite of those who want to experience a cool, unique vibe. Named after the owners' family life (Shawn and Lindsay frequently moved due to Shawn's career in the coast guard), Birds Fly South has been awarded everything from the "2016 Beer Advocate Top New Brewery" to the "Best in Craft Beer Awards" for their C'mon Sunshine beer. Their "urban farmhouse" (a 15,000-square-foot revitalized wool mill) is located at Hampton Station in the city's West End Water Tower District and has an outdoor patio, Biergarten, and large lawn space where you can spend time hanging out with your friends while working your way through their revolving tap of 14 beers. Go for the Skin & Bone Wild Ale, Fat Ma pilsner, or Flowers for Brains pale ale. No matter what you choose, you won't be disappointed.
2. Southernside Brewery

25 Delano Dr. Unit D, Greenville, SC 29601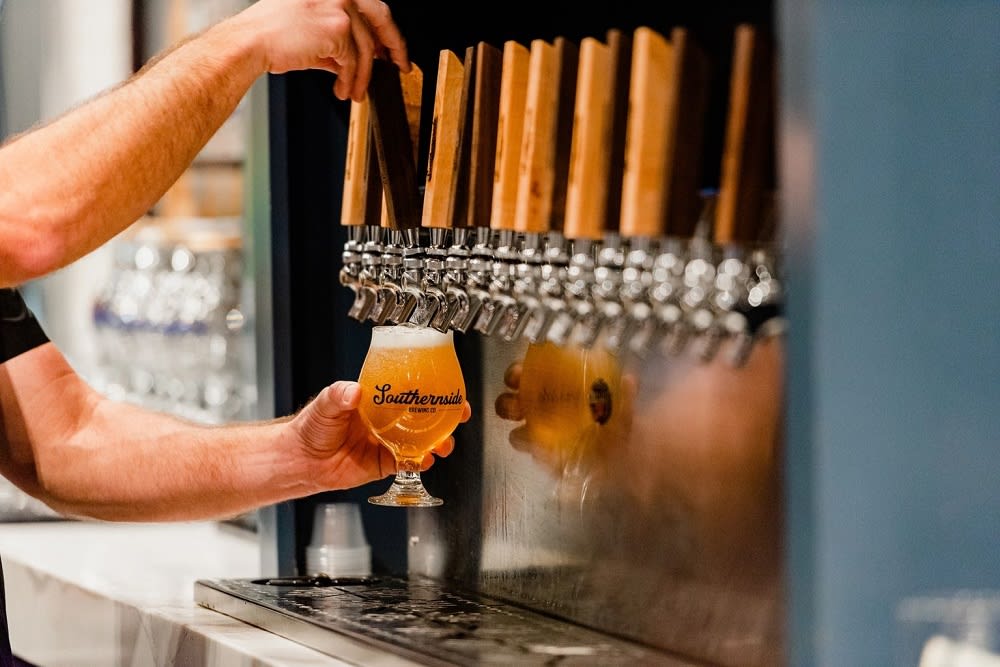 Photo courtesy of Southernside Brewery

If scenic is what you want in your brewery, you need to head over to Southernside. Looking out on the Swamp Rabbit Trail, this brewery and pub has an industrial feel due to its massive indoor space, where they frequently host markets, music weekends, and trivia nights. Along with their large rotating list of draft beers (some favorites include the "Oh What a Night" American IPA, "Descendants of the Stars" imperial stout, and "Cash Rules" vanilla and pistachio cream ale), Southernside also serves craft cocktails. You can't beat the "Irish Mama" (Jameson, juices, and ginger beer) or "The Empress Herself" (gin, blueberry syrup, lemon and pineapple juice, topped with sparkling wine). Want some food along with your drink? Southernside has delicious shareables like fried pickles and buffalo chicken dip, along with sandwiches, salads, wraps, and tasty sides.
3. Brewery 85

6 Whitlee Ct, Greenville, SC 29607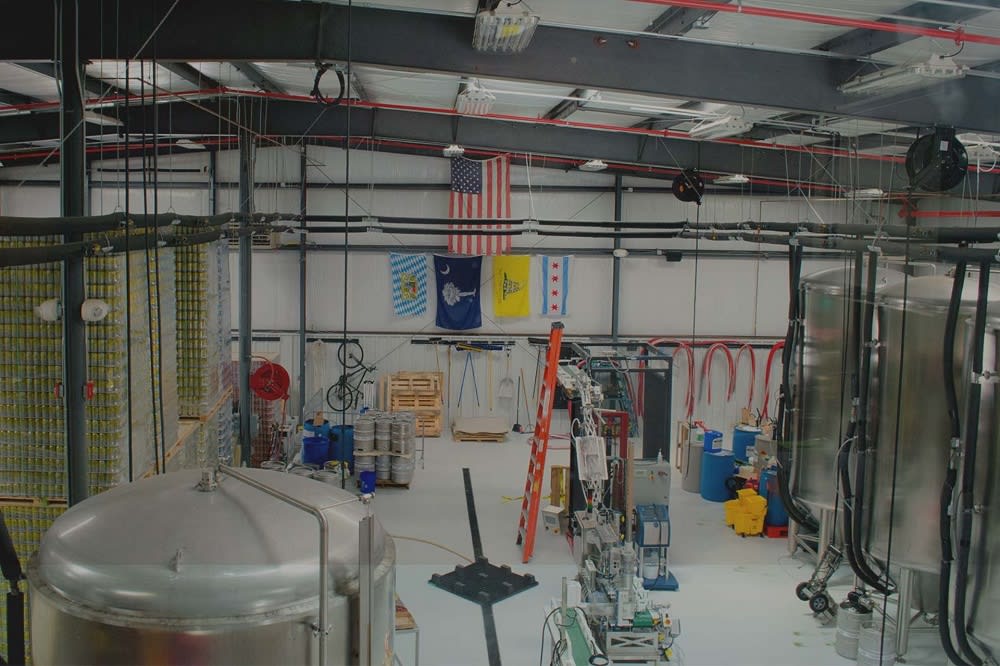 Photo courtesy of Brewery 85

One of the larger breweries in town, Brewery 85 is the place to go if you want to tour a large working brewery or attend a fun local event. During the winter, they have a Toasty Farmer (indoor farmer's market), and locals often rent the space for other public or private events. If you just want to enjoy a craft beer, take a seat in their taproom where you can enjoy a "Riot" blonde ale, "Yeoman's American" brown ale, or "Tropic Thunder" American double India pale ale. The taproom also has an assortment of craft cider and soda, as well as champagne and wine for those who aren't in the mood for a brew. Dogs are also allowed both inside and outside at Brewery 85, so it's a great place to go if you're looking for an outing with your pooch.
4. Tetrad Brewing

603 E Stone Ave, Greenville, SC 29601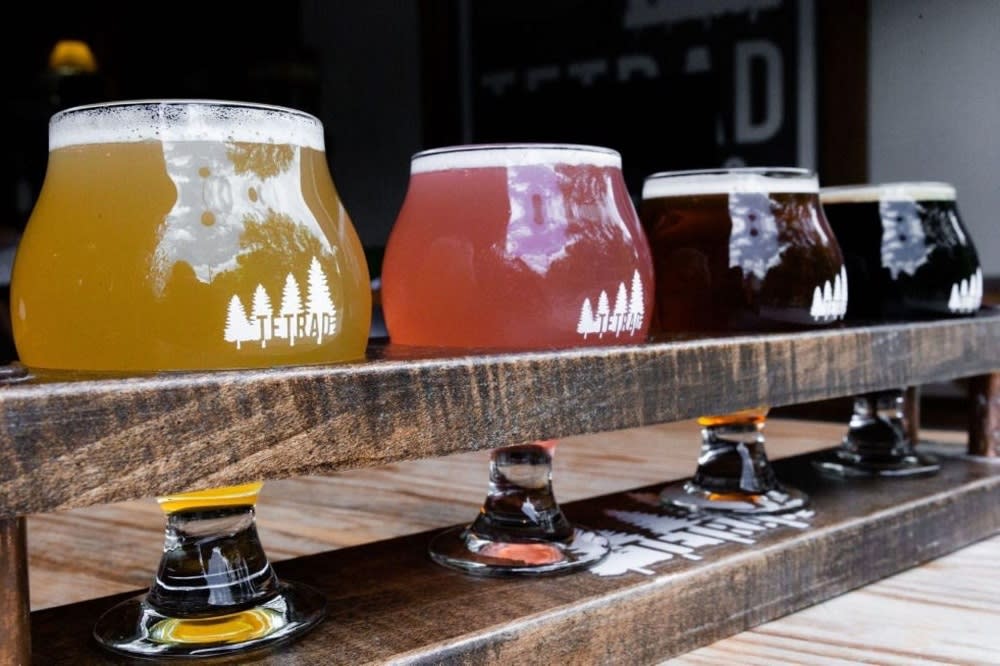 Photo courtesy of Tetrad Brewing

Opened in October 2019, Tetrad focuses on small craft beers and also offers beers from other local breweries. Tetrad is a very welcoming brewery where kids, dogs, and all tastes and experiences with craft beer are always encouraged to come. Located in midtown Greenville, Tetrad is on the lower level of the Half-Moon Outfitters building, so you can do some shopping either before or after your visit. Some of the highlighted beers on their tap list include "Mowing Off Some STEAM" lager, Tetrad's "3-Year Birthday Cake Beer" (an imperial stout), and "Feisty Lisa's Lemonade" (a shandy). Like many of the other breweries in town, Tetrad also has frequent activities and events like Music Bingo every Thursday, patio parties, Oktoberfest, and food truck nights.
5. Eighth State Brewing Company

400 Augusta St, Greenville, SC 29601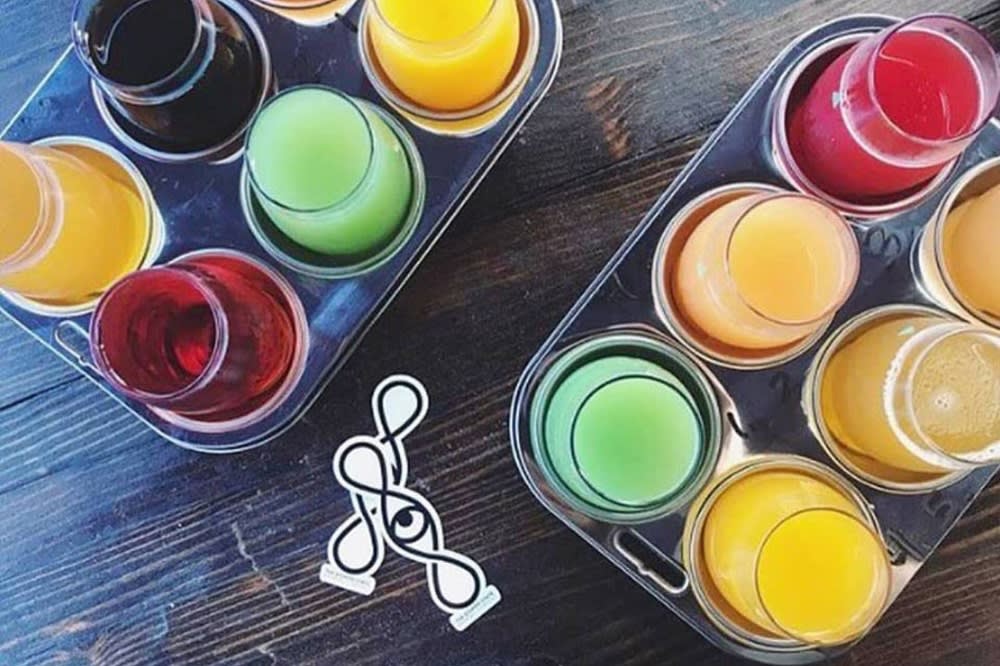 Eight State Brewing Company

Located in the West End of Greenville, Eighth State Brewing Company is the perfect spot for those who love creative and quirky beers. They also have craft cocktails (including adult slushies), flights of bourbon and mezcal, and yummy food like hummus bowls, wings, and BBQ quesadillas. As far as beers go, you can expect to find offerings like the "Stress Dream" (a 13% ABV oatmeal stout), "Severance" (a 15.8% ABV barleywine), and "Eternal Loop" (a 13.5% ABV imperial stout). The brewery also has featured guest taps from other breweries, including Fair Isle Brewing, Bond Brothers, and Equilibrium.
6. Thomas Creek Brewery

2054 Piedmont Hwy, Greenville, SC 29605

One of the most established breweries in town, Thomas Creek opened in 1998 in a huge warehouse facility with a small-ish taproom and patio. Though you can find their beers at nearly any bar or restaurant in town, it's fun to visit the place where it all started. Their "Appalachian Amber" ale, "Dockside" pilsner, and "Class Five" IPA are all popular, as are their "Key Lime in the Coconut" hard seltzer and "Thomas Creek" root beer. The brewery also offers food from the "Snack Shack," like build-your-own pizza, nachos, and sweet potato tots. If you're really hungry, you can get one of Tom's Specialty Sandwiches like the Appalachian Americana Burger, Hefe Hummus Wrap, or Pilsner Pesto Sandwich.
If you plan to be in the area and are looking for things to do in Greenville, SC, you can't do much better than visiting one of their fantastic breweries. If you want to make a day of it, you can also take a brewery tour to knock a few off your bucket list. Don't yet live in the area but are considering buying one of the Greenville homes on the market? Reach out to trusted local agent
Kiersten Bell
for expert guidance in finding the perfect
Greenville, SC, property
for your unique needs.
*Header photo courtesy of Unsplash